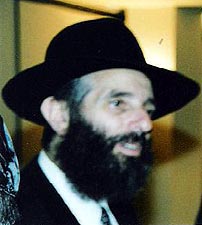 Rabbi Eliezer Eisgrau
The following was posted as a comment on
UNITED STATES OF AMERICA vs. SHMUEL ZEV JURAVEL.

Hi Baltimoreans.

For obvious reasons, I'll leave out details.

I am an alumni of "Torah" Institute. I personally know 4 children who were sexually molested by Eisgrau. The boys were about 10. The parents fought with Rosen, Meister, and the other blasted crew about him. And yes- sorry- Rabbi Heinemann Shlit"a. But "oy chas vesholom how can we say such things on a talmid chochom like rabbi eisgrau." And about Zayon, ah dont get me started.

Anyway. I hear Rosen is going senile. Zayon is sick. Meister hasn't got it sweet either. Well thank g-d. I hope they all get what they deserve. They are an embarrasment to the Jewish faith. How many more Baltimore teens will go off before they wake up.

G-d bless America!
Links of Interest: