(NY) Governer Eliot Spitzer Linked to Prostitution Ring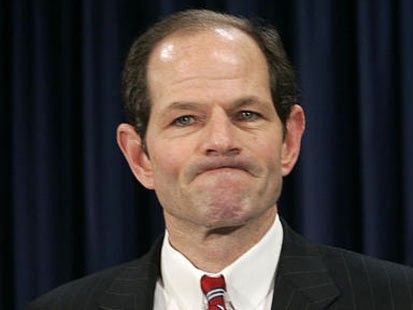 Click here for
New York Times Video

Another Tri-State Governor in Scandal

By JOHN CHRISTOFFERSEN
NEW HAVEN, Conn. (AP) — A dynamic young governor near the New York media spotlight is suddenly derailed by scandal. In 2004, it was Connecticut's John Rowland, followed quickly by New Jersey's Jim McGreevey.
On Monday, prostitution allegations against New York Gov. Eliot Spitzer threatened to make him the third governor in the tri-state area to lose his job in shocking, humiliating fashion in less than four years.
"It's troubling," said Gary Rose, politics professor at Sacred Heart University in Fairfield. "They were all rising stars — all three of them. I think it could cause some voters to really look below the surface. You wonder what lies beneath a lot of the imagery."
JOHN ROWLAND
Rowland was the boy wonder of Connecticut politics: At 27 a congressman and at 37 the youngest governor in Connecticut history when he took office in 1995.
Though a Republican in a heavily Democratic state, the charismatic Rowland enjoyed high approval ratings. But in his third term, a federal investigation against members of his administration brought new and damaging information each week.
He was forced to admit that contractors paid for home improvements at his lakeside cottage and that state employees bought him a hot tub. Memos revealed that he had accepted Cuban cigars from a state contractor.
Amid impeachment hearings and the federal probe, Rowland finally resigned. He later served 10 months in prison.
Now 50, Rowland recently landed a job as the economic development coordinator for his hometown of Waterbury.
JAMES McGREEVEY
McGreevey's sudden and spectacular downfall came after an alleged affair with a male aide who McGreevey said tried to blackmail him.
In a nationally televised speech, McGreevey, now 50, acknowledged being "a gay American." He said he would resign because of his sexual indiscretions, which included putting his lover on the government payroll in a job — homeland security adviser — for which he had no qualifications.
The aide, Golan Cipel, denied being gay and said the governor sexually harassed him.
McGreevey and his estranged wife, Dina Matos, are embroiled in a bitter divorce and even have competing tell-all books. They share custody of their only child, 6-year-old Jacqueline.
McGreevey is enrolled in an Episcopal seminary in New York City and lives in Plainfield, N.J., with a male partner.
ELIOT SPITZER
Spitzer, 48, built his career on fighting corruption. Formerly an assistant district attorney in Manhattan, Spitzer was New York's attorney general for two terms before overwhelmingly being elected governor in 2006.
Spitzer's hard-charging ways quickly put him at odds with the powerful Republican leader of the state Senate, Joseph Bruno, and his agenda stalled amid political scandal and polls that showed most New Yorkers would not vote for him again as governor. Two aides were disciplined for using the state police to track the movements of Bruno, Spitzer's chief political rival.
Spitzer's involvement in a prostitution ring was caught on a federal wiretap as part of an investigation opened in recent months, according to a law enforcement official who spoke to The Associated Press on condition of anonymity because of the ongoing inquiry.
Associated Press writer Angela Delli Santi in Trenton, N.J., contributed to this report.