Report: Manchester rabbi frequents whorehouses
By
Moody Krightman
YNet News
June 26, 2006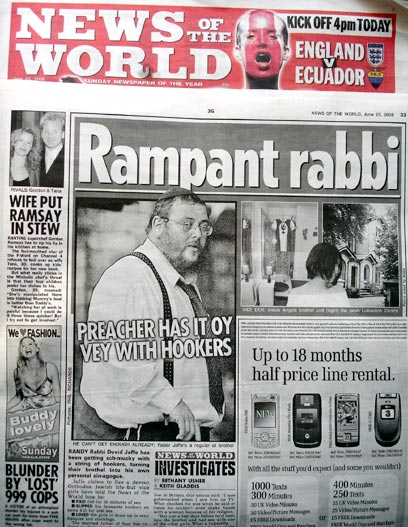 Rabbi Dovid Jaffe
<>
The Lubavitcher rabbi is most likely spinning in his grave. One of his Hassidim was photographed consorting with whores. Prior to this event, he announced on TV that, for religious reasons, he is unable to shake hands with a woman
He regularly frequents whorehouses, garters especially turn him on, and he pays extra for special sexual services. No, we're not talking about a high-class pimp or an executive in the pornography industry, but rather an ultra-Orthodox rabbi of the Lubvitcher school.

<>The bestselling tabloid in the world, News of the World, published on Sunday the scandalous story of Manchester resident, Rabbi Dovid Jaffe. Jaffe, married and the father of four, heads the Lubavticher center in Manchester and prepares youths for their bar-mitzvah ceremony.


Recently, he appeared on BBC 4 as a guest on a show featuring Jewish customs. While on television, he described the difficulties in maintaining an ultra-Orthodox lifestyle in England and went on to say that, for religious reasons, he cannot even shake hands with a woman.


<>It turns out, however, that the rabbi who is not prepared to clasp hands with women is more than happy to clasp plenty of other body parts. He was photographed recently visiting the "Angels" whorehouse in Manchester and cavorting with the women there.



'Whores dressed in garters'


The weekly paper that exposed Rabbi Jaffe's exploits says that, for half an hour of sex, the rabbi is willing to pay forty pounds, fifty if oral sex is also part of the package. He prefers to have his whores dressed in garters.

"He's a frequent client here," reveals one of the whores. "He's a man who knows exactly what he wants." One whore, who in a moment of boredom perhaps wanted to purify herself, happened to watch the BBC production and discovered that her client was a rabbi. His remarks on the show infuriated her.